Jinkx Monsoon
Jinkx Monsoon, American stage actor and drag performer, comedian and singer, became most well known for their appearance on RuPaul's Drag Race during the show's fifth season. They reprised their appearance on the show again in the seventh season, becoming the first contestant to win two seasons of the show.
Born in Portland, Oregon under the name Jerick Hoffer, Jinkx first performed in drag at just fifteen years old at the Escape Nightclub, Portland's all-ages LGBTQ-friendly nightclub. After discovering their Jewish lineage at the age of eighteen, they created the beloved drag persona Jinkx Monsoon, with the intention of connecting to their Jewish heritage.
They were the subject of a YouTube docu-series Drag Becomes Him, by Alex Berry. Named after one of Jinkx's favorite movies, Death Becomes Her, the docu-series by the Seattle videographer explores Monsoon's life in and out of drag.
Jinkx has since made such stage appearances as Moritz in the musical Spring Awakening, Angel in 5th Avenue Theater's production of the musical, RENT, and in the Moore Theater's production of Hedwig and the Angry Inch, winning the Gregory Award for her portrayal of Hedwig in the latter production. In 2014, Jinkx released their debut album, The Inevitable Album, a blend of jazz, traditional pop, and cabaret.
Continuing to showcase their versatility, they would release their second album, The Ginger Snapped, in 2018. In 2019, New York Magazine's panel of judges would rank them 18th on a list of "the most powerful drag queens in America".
Later that year, in August 2018, Jinkx would announce via Twitter their ordination through Universal Life Church, enabling them to officiate weddings. Since January 2023, they have been playing the role of Mama Morton, in Broadway's musical production of Chicago, in New York.
Want to become ordained like Jinkx Monsoon? Click here!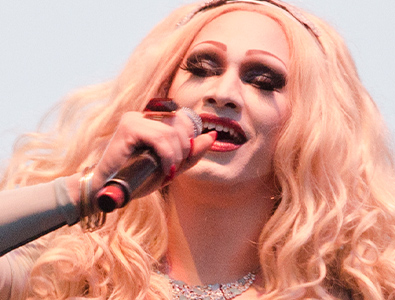 Jinkx Monsoon 006 - DC Capital Pride street festival via Wikimedia Commons and Tim Evanson, licensed under CC BY-SA 2.0.