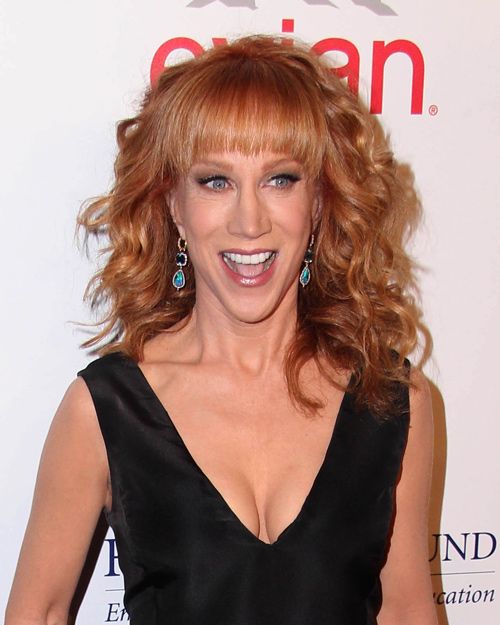 Many television shows and movies have depicted wedding ceremonies according to various customs and faiths. Because they're portrayals or works of fiction, the person performing the ceremony is usually an actor following the lines of the script. Unlike dramas and sitcoms, reality TV shows are unscripted, presenting real situations. If you're watching a reality show episode featuring a "real wedding," the person officiating must be an ordained minister or authorized government official. This is a rule that is consistent from state to state, regardless of wedding customs and individual preferences.
Joining Reality and Wedded Bliss
Comedian and actress Kathy Griffin has appeared in many comedy specials on TV as well as comedy albums. She has also acted in TV shows and movies and hosted various programs. Her humor is generally considered to be quick, raunchy, and acerbic, particularly toward public figures. Griffin's comedy style is also known to be self-deprecating, especially in her Emmy-winning reality series, "Kathy Griffin: My Life on the D-List." The premise of the show involved Griffin's self-described status as a "D-List" actress and her hijinks in attempting to gain status in Hollywood. The show featured her parents, her husband at the time, several staffers, and two dogs.
On one episode of the show, Kathy Griffin flexed her ministry muscles for the first and only time. Two of her fans, Brian Anstey and Elka Shapiro, requested that she officiate their wedding. Griffin secured ordination through the Universal Life Church, which enabled her to solemnize this couple's union. She flew across the country and joined the couple at the wedding venue, the Queens County Farm Museum. Griffin led a 10-minute ceremony that included blue humor and having the bride recite the menu for the reception. Neither Anstey nor Shapiro is religious, but they love to laugh, an important factor in their relationship. Who better to join them than their favorite comedian? Although the ceremony was unusual, Shapiro noted that it was something she and Anstey would always remember.
Developing a Ministry Style
When it comes to performing marriage ceremonies, it's up to you to come up with your own style. In the United States, there are very few things that must be included in a ceremony. The couple has to each formally declare their intent to marry, and as the minister, you must pronounce the couple married, usually in the presence of two adult witnesses. Beyond that, you can choose your style, attire, and other elements to include in the ceremony. 
Many couples are married according to a particular tradition. For example, a Christian couple may be married by a priest or pastor associated with a certain house of worship. As a ULC-ordained minister, you can be of service to a couple who aren't affiliated with a religion or belief system. You can find inspiration in nearly anything with respect to developing a script. Some ministers will incorporate elements from existing media, such as lines from a film. You may prefer to wax at length about your perspective on marriage and the importance of performing legal ceremonies. You can inject your personality into your weddings as appropriate.
Cracking jokes is not something that everyone can do as a minister, but you can definitely play to your strengths. Kathy Griffin's oeuvre is comedic and involves sharp and biting humor, so a ceremony where she tells jokes is par for the course. Her experience as a host and actress also probably helped her come across as personable and cheery for the occasion. What are your strengths? Make the most out of them as you develop your ministry as an ULC-ordained officiant.